To celebrate Women's Day we're tasting two spectacular wines made by two equally spectacular women. The Nederburg Heritage Heroes 'Beautiful Lady' Gewürztraminer 2016 by Elmarie Botes under Cellar-master Andrea Freeborough and the Kaapzicht Pinotage Rose 2019 by Kayleigh Hatting under Danie Steytler
The Nederburg Heritage Heroes Beautiful Lady
The Beautiful Lady takes its name from Ilse Graue, the wife of Johann, and mother of Arnold, the original landowner of Nederburg. Like Ilse herself, this Gewürztraminer is elegant and refined. With hints of rose petals and Turkish delight, its fruity litchi and pineapple notes are offset by a shimmering acidity. Made by Winemaker Elmarie Botes.⁠
As Nederburg's White Winemaker, Elmarie enjoys worthwhile challenges, nature that sustains us all and a really good wine; it's no wonder she fell in love with the idea of wine-making while on a cellar tour as a young student. Born, raised and educated in the Cape Winelands, Elmarie admires the strong female figures in the wine industry who forged a path and place for women winemakers just like her. Under the tutelage of Cellar-master Andrea Freeborough, Elmarie is motivated and driven to elevate Nederburg's immense standard in wine-making to new heights.⁠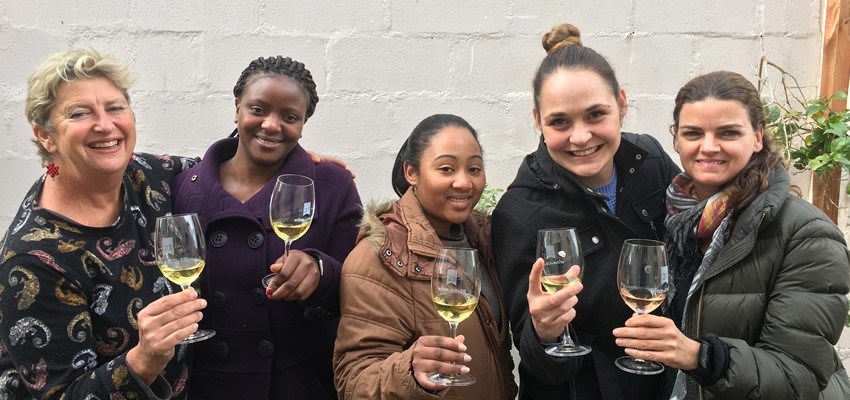 Some of the wine.co.za ladies enjoying a glass for Women's Day | Judy, Yoli, Jamie-Lee, Laverne & Sheryl
'Light salmon pink in colour with buckets of strawberries bursting forth on the nose, accompanied by subtle undertones of rose petals and herbaceousness. Light and refreshing on the palate, with the wine showing good acidity which carries the flavours through and leaves you wanting more.'⁠
The Kaapzicht Pinotage is made by Kayleigh Hatting; ''I studied viticulture and oenology at Stellenbosch University, and completed my studies in 2016. My first year after my studies I worked with Andrea and Chris Mullineux in Franschhoek who helped cultivate my passion for terroir-driven wines. Having worked with new varieties like Grenache and Mourvedre for the first time, I was inspired to work in Spain where these varieties are very common. I went to a small viticultural area called Priorat, working at Terroir al Límit. I learned to love Mediterranean cultivars and how to farm under intense dryland conditions.⁠
It's quite perfect that my past experience has led me to Kaapzicht. Here is where my passion for terroir driven- and site specific wines are fuelled.''⁠
Raise a glass in celebration with us we wish you a fantastic Women's Day, and many more!