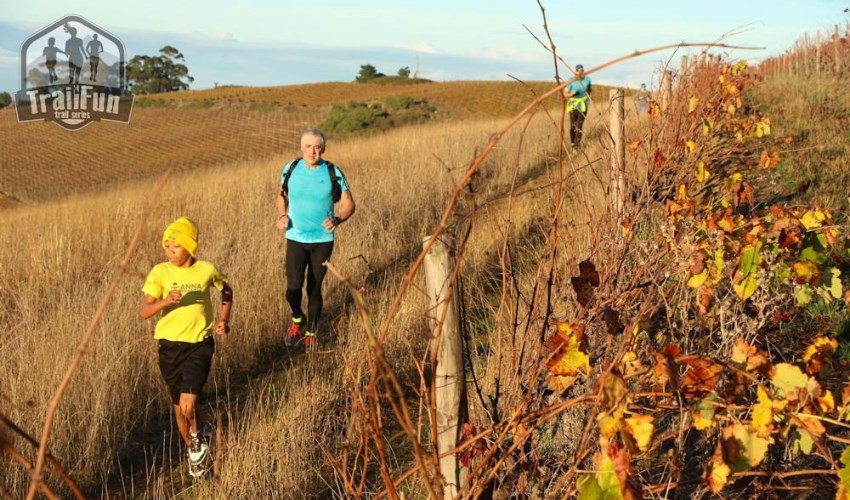 The Bottelary Hills Renosterveld Conservancy (BHRC) is collaborating with TrailFun to host a series of trail runs in aid of community development.
Inaugural runs introduced runners to new venues such as Hartenberg, Bellevue and Karibib. The winter series will give outdoor enthusiasts the opportunity to explore a variety of member farms in the beautiful Bottelary Hills in a safe environment including Mooiplaas (4 June), Kaapzicht (25 June), Zevenwacht (9 July), and Middelvlei (23 July).
The rolling hillsides feature vineyards, farmland and Renosterveld conservation areas. Runs are hosted early Saturday mornings with a choice between an entry level 5km or more advanced 10km run, while runners looking for longer routes can run both for 15km or loop for 21km.
Participants can opt for race starts with prizes for the first three runners across the finish line or enjoy an individual start any time before 09:30 for a relaxed run with no groups, no crowds - just solitude in nature. The 15km and 21km routes are individual starts only and have been designed as long and slow distance training runs. All runners are timed and will receive a medal with fun lucky draw prizes up for grabs.
According to conservancy manager Christel Liebenberg, the Bottelary Hills remains a hidden gem with many generational family-owned wine farms steeped in history located off the beaten track. Founded in 1992, the BHRC is a critical part of the Cape Floral Kingdom and contains some of the very few remaining Renosterveld tracts of land close to the Cape Metropole. Less than 4% of the original Renosterveld in the Western Cape remains.
Ongoing alien plant eradication and environmentally sustainable farming practices contribute to the conservation of the Bottelary Hills, while community development programmes aim to address the socio-economic challenges of the people living and working on the farms within the conservancy.
"The BHRC is easily accessible to day and weekend visitors and offers a variety of activities that cater for families, nature lovers, outdoor enthusiasts, wine and food connoisseurs. The ever-evolving network of MTB trails remains a key attraction with a growing interest in hiking, vineyard walks and trail running. Our intensified focus on biodiversity, sustainable farming practices and eco-tourism is creating an incredible platform to grow and expand our tourism destination offerings. Consequently this will enable us to generate new and uplifting opportunities for our local youth," concludes Liebenberg.
Apart from stunning views, visitors might also sight game such as caracal, grysbok, grey duiker, porcupine, bat-eared foxes, Cape foxes and otters or the many bird species that are still prevalent in the Bottelary Hills.
Entry fees are between R70 and R210 and include your medal, bottle of spring water and the option to include a bottle of wine from the estate. TrailFun will donate a percentage of all entry fees to the BHRC community development fund in support of local upliftment programmes. Enter on https://entries.trailfun.co.za.
Follow our social media platforms @bottelary_hills_conservancy on Instagram and @BottelaryHillsConservancyMTN as well as www.bottelaryconservancy.co.za.